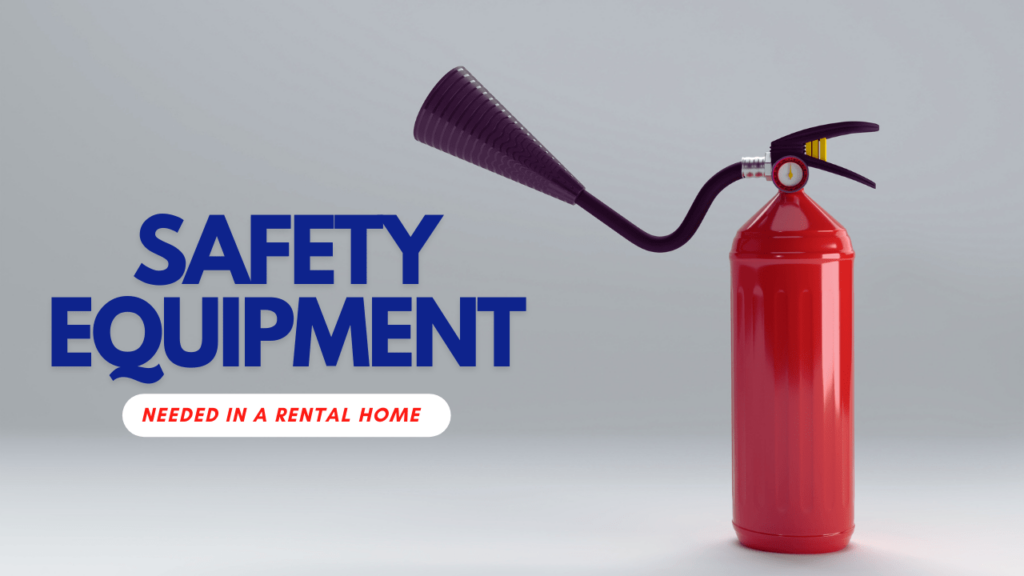 Safety must be a priority for you and your tenants when you're renting out an Irvine home. No one likes to dwell on worst case scenarios, but a fire or a flood or an injury could happen at any moment, and when your tenants are prepared, there's less risk to them and to your property. 
As tenants are preparing to take possession of your rental property, they expect to move into a generally empty home. Leaving some safety equipment in the home is a good idea. In some cases, it's legally required (smoke detectors and carbine monoxide detectors). In other cases, it's not necessarily mandated, but it will help your tenants respond to unexpected problems and situations. 
Let's take a look at what kind of safety equipment you need to provide in your Irvine rental home. 
Smoke and Carbon Monoxide Alarms in Irvine Rental Homes
As a rental property owner, you're required to provide a smoke alarm in every bedroom. You also need to have a smoke alarm:
On the outside of each sleeping area in the immediate vicinity of the bedrooms (i.e. a hallway)

On each level of the home, including the basement if you have one. 

Placed according to the manufacturer's instructions.
The State Fire Marshal approves specific smoke alarms, and those the detectors you're required to install at your rental property in order to be compliant with this law. 
When it comes to carbon monoxide detectors, you don't have to install one in each bedroom. However, they do have to be outside the sleeping areas in your home, including the basement if someone is sleeping there. Again – the State Fire Marshal must approve the carbon monoxide detector you're using, and it has to be placed according to the manufacturer's instructions. 
California Health and Safety Codes allow property owners or their property managers to enter the residence with at least 24 hours of notice in order to check and test the smoke and carbon monoxide alarms. 
Fire Extinguishers in Rental Property
Fire extinguishers can save you a lot of money in damages and repairs. You should provide at least one fire extinguisher in your rental property, and it should be in a location that's easily accessible. Make sure your tenants know where to find it and how to use it. 
More than 350,000 residential fires occur every year according to the National Fire Protection Association. Having a residential extinguisher that's easy to grab and simple to use can save you and your tenants a lot of money in property damage. 
Look for a portable fire extinguisher that isn't too heavy or cumbersome. You'll need to have it serviced and maintained, and most fire departments will do this for free. Include it in your annual preventative maintenance plan. 
Bolt Locks and Peepholes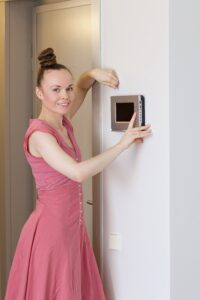 Video doorbells are gaining in popularity among tenants. Your residents might like the idea of seeing who is at the front door just by looking at their phones. If you want to upgrade your rental property security with the latest technology, go ahead and install a video doorbell. Your tenants can download an app which will send them footage of anyone at the front door. This can be helpful for tracking package delivery and it will let them know who is outside their home. 
If you're not ready to install the technology, simple peepholes can help. You don't want your tenants opening the door to just anyone. They'll appreciate knowing who is outside, so make sure your exterior doors have peepholes. 
Bolt locks are also an important way to secure your external doors. This protects your tenants at night, when all residents are inside the house and sleeping. You can buy larger screws for bolt locks which will deter potential burglars who might try to break through the bolt and open the door. 
These are a few important safety features that every rental home can benefit from having. If you'd like to talk further about how to keep your tenants and your Irvine rental property safe, please contact us at HCM Property Management.