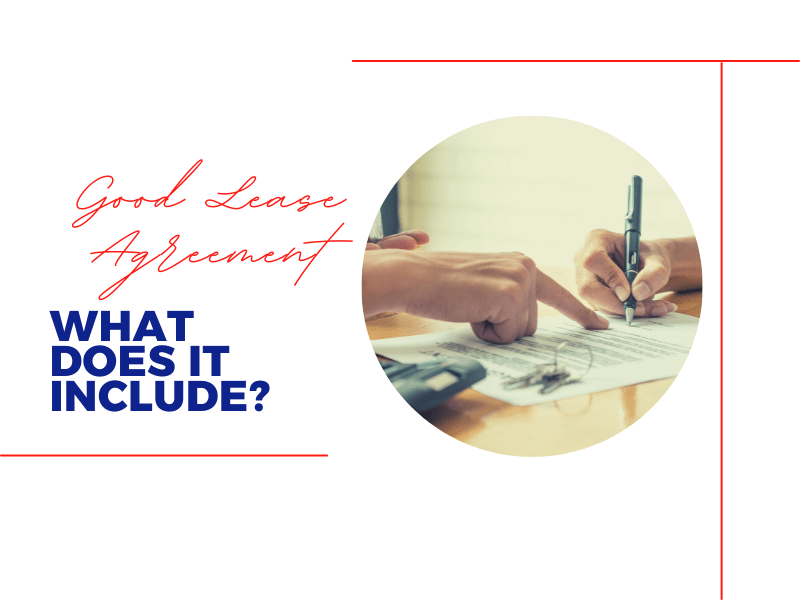 A good lease agreement is a prerequisite to a successful tenancy. However, do you know what exactly do good lease agreements include? At HCM Property Management, we believe that a well-drafted lease should be more than a basic set of rules and conditions. Instead, it should be reflective of your needs, expectations, and professionalism and can help you build better relations with the tenants. 
Here's what a good lease agreement must include:
A Good Lease Agreement Clearly Specifies The Terms Of Use.
A well-written lease agreement clarifies your expectations related to using the property. The more specific the instructions, the smoother the tenancy will be. 
Maintenance responsibilities
We recommend specifying the terms of maintaining the unit as most of the disputes occur due to a lack of clarity about the day-to-day cleanliness and upkeep responsibilities. 
Consider specifying the monthly, weekly, and daily cleaning duties, for example, vacuuming the carpet once a month, cleaning the deck once a week, and taking out the trash every day. Also, include a clause that states the damages that will be considered as their liability, beyond wear and tear.
Reporting maintenance issues
Highlighting the terms related to submitting the repair requests, such as the duration within which the issues must be reported, is also a good idea. For example, 'any witnessed damage or maintenance issue should be reported within 24 hours. 
A good lease agreement also elaborates on certain policies like the no-smoking policy, the guest policy, and the pet policy. 
Repercussions of breaking the rules
Most importantly, add the repercussions like a definite penalty that you will charge if the tenants fail to follow the terms. 
It Includes Important Landlord Disclosures
A good lease agreement includes important landlord disclosures, as required by the state of California. Some of these include details related to 
The security deposit (cases in which you can hold it)

Non-refundable fees

Existing property damages

Local rent control regulations

Registered sexual offender's databases

Lead-based paint
Mentioning these is crucial for the safety of the residents; otherwise, you may have to bear hefty legal penalties.
Legal Compliance
A good lease agreement upholds the state and federal laws by allowing you to:
Increase the rent only once every 12 months

Charge either two months' rent (unfurnished home) or three months' rent (furnished one) as the security deposit       

Enter the property only after sending 24 hours notice to the tenants

Follow the legal eviction process. 

Amend the legitimate clauses like the lease length, rent amount, maintenance responsibilities, or extended permissions like the availability of a smoking area provided that you and the tenants agree to the amendments and sign them for them to be operational.
A lease that contradicts any of these terms would be inconsistent with the law. We, therefore, suggest that you either get it checked by a legal authority or let a property manager create it.  
It Includes Important Addendums.
Lease addendums are essential documents attached to the lease to provide extra information about every clause. If applicable, you must provide certain addendums like the lead-based paint addendum, pet lease addendum, military clause addendum, mold addendum, or bed bug addendum.   
A good lease agreement should be written in simple yet precise words that convey the information completely. Avoid using complex legal terms or abbreviations as tenants May not necessarily be aware of them. Also, ensure that the font is big enough to be read by the naked eye, and the font size is readable and professional.
Instead of worrying about drafting a good lease, let a professional property manager do it for you, as they are skilled and experienced at drafting leases. In fact, most companies have their drafts ready to be customized as per your requirements.
Work with the most trusted company in Long Beach, HCM Property Management. We aim at helping landlords like you draft a comprehensive lease agreement that helps your rental business grow.
For more information, contact us at HCM Property Management.